Horse and Donkey by Franz Marc
Gouache, 1912.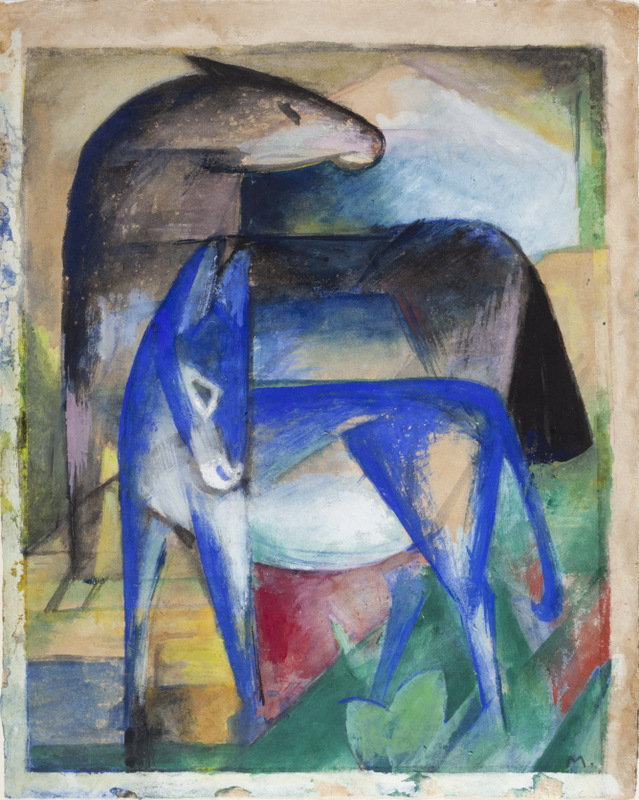 Art work details
Original Title :

Zwei Blaue Esel

Year of production :

1912

Artist:

Medium :

Gouache

Materials:

Dimensions :

height: 34.5 cms; width: 27.7 cms

Credit Line :

Loaned by Private Collection

Associated Groups :

Der Blaue Reiter

Tags:
Marc believed civilisation to be corrupting and turned to the depiction of animals whose 'innocent attitude towards life evokes all that is good in me'.
They became the symbol of his belief in an earthly paradise.
The colours and forms are calm and serene in comparison with Marc's Red Woman, also in the exhibition; the glowing blue of the donkey contrasting with the sensitively painted muted colours of the horse and background. Marc's feeling for animals is perhaps reflected in this description of the horse:
'…nobility and majesty, strength and pride … looking into the distance as into eternity.' Recorded in Lankheit catalogue, as Two Blue Donkeys.