In Memory of Rosa Luxemburg and Karl Liebknecht by George Grosz
Ink, 1919.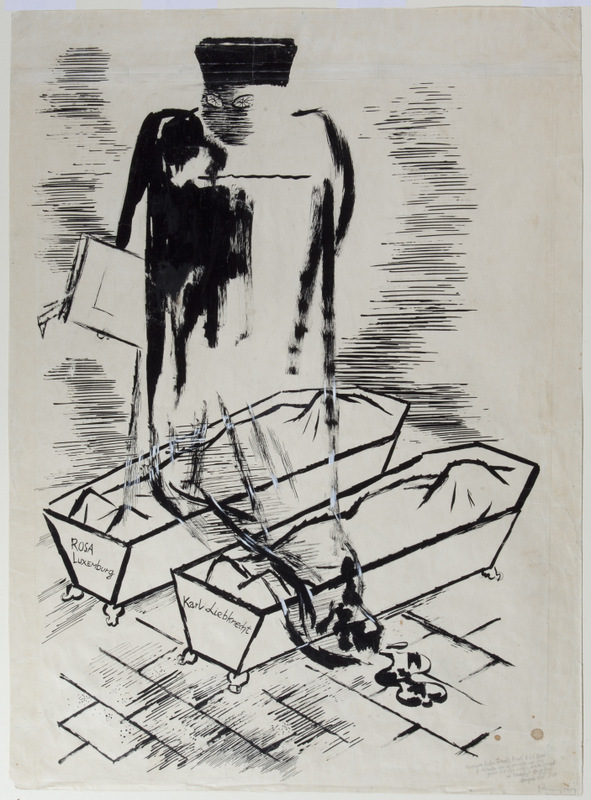 Art work details
Original Title :

Zur Erinnerung an Rosa Luxemburg und Karl Liebknecht

Year of production :

1919

Artist:

Medium :

Ink and wash drawing

Materials:

Dimensions :

height: 61.5 cms; width: 44 cms

Credit Line :

Purchased from Fischer Fine Art with MGC/V&A Purchase Grant Fund assistance

Copyright :

Estate of George Grosz, Princeton, N.J. / DACS, 2013

Associated Groups :

Novembergruppe

Tags:
Rosa Luxemburg and Karl Liebknecht (both 1871-1919) were left wing socialists who formed the revolutionary Spartacus League in Berlin in 1914 in opposition to the First World War. Both were brutally murdered by German troops in January 1919 after the unsuccessful Spartacist uprising against the government. Grosz commemorates this savage act by depicting justice as a ghost trailing a bloodstained robe across the open coffins of the two victims.
George Grosz was a radical artist and caricaturist who satirised capitalist society and its values through incisive graphic art. Grosz, Otto Dix and Max Beckmann formed the principal trio of left wing New Objectivity artists. His political activism led to his emigration from Germany to America in 1933.