Dona Nobis Pacem (Give Us Peace) by Ernst Barlach
Lithograph, 1916.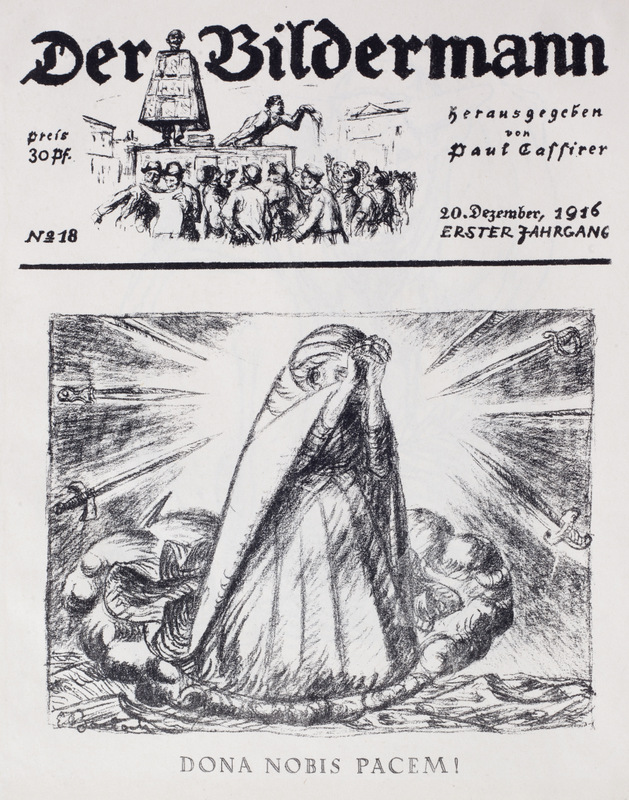 Art work details
Original Title :

Dona Nobis Pacem

Year of production :

1916

Artist:

Medium :

Original print, Lithograph

Materials:

Dimensions :

height: 34.5 cms; width: 28 cms

Credit Line :

Purchased from Mrs Margaret Fisher

Catalogue References:

Schult II, 82. Söhn 10618-1. Laur 33. Feilchenfeldt/Brandis Z4.18. Rifkind 87.

Associated Groups :

Berliner Secession

Tags:
Title page from Der Bildermann 1, No. 18 (1916), verso Weihnacht by August Gaul.
Give us Peace, (Dona Nobis Pacem), from the Agnus Dei in the Latin mass. 
Printed in the Christmas issue, a sorrowing Madonna 'clothed with the sun' floats high above the world and prays for peace.
In earlier devotional pictures the encircling swords represented the Seven Sorrows of Mary. Here the meaning is extended to represent the death and sacrifice incurred by the war and Mary's sorrow is the sorrow of all grieving mothers. This image was used again in 1921 for a war memorial in Kiel.
Printed by Paul Cassirer.