Portrait of Anna Roslund by Gabriele Münter
Oil, 1917.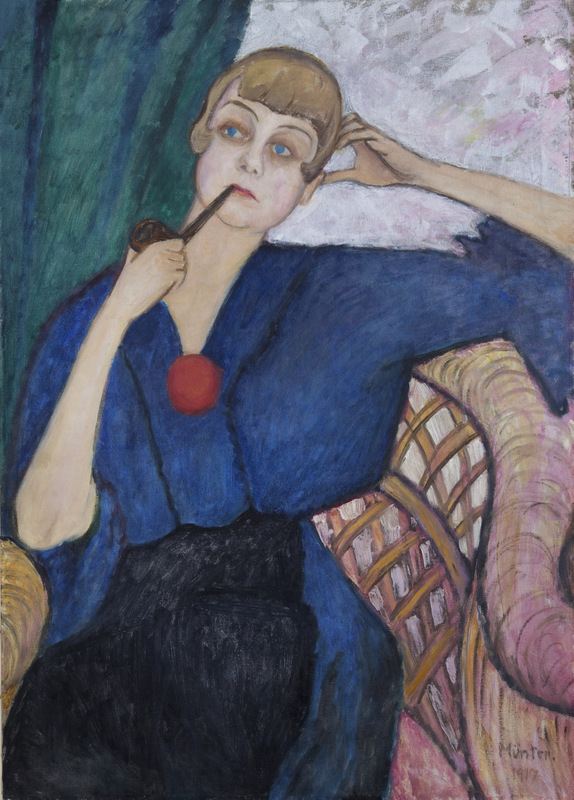 Art work details
Original Title :

Bildnis Anna Aagaard

Year of production :

1917

Artist:

Medium :

Oil painting

Materials:

Dimensions :

height: 94 cms; width: 68 cms

Credit Line :

Purchased from Sotheby's with the assistance of the National Art Collections Fund, MGC/V&A Purchase Fund and the City of Leicester Museums Trust

Copyright :

© DACS 2013.

Associated Groups :

Der Blaue Reiter

Tags:

Blue, World War I, Portrait, Red, Munter
Münter met the Danish writer, Anna Roslund, shortly after her move to Copenhagen from Sweden in 1917. In Sweden she had renewed her interest in Matisse and abandoned her earlier Bavarian primitivism. Deep in thought, the stylish, pipe-smoking writer is portrayed as one of the confident 'new' women of the early 20th century. 
Münter developed a close friendship with Kandinsky when she attended his Phalanx Art School in 1902. The relationship ended in 1916. From 1908 her house in Murnau became a regular summer base for herself, Kandinsky, Jawlensky and Werefkin. Here she was influenced by the strong, bold colour separations of Bavarian glass painting and often included folk art imagery in her paintings. She participated in all the Blue Rider exhibitions.