Match Seller by Otto Dix
Etching, 1920.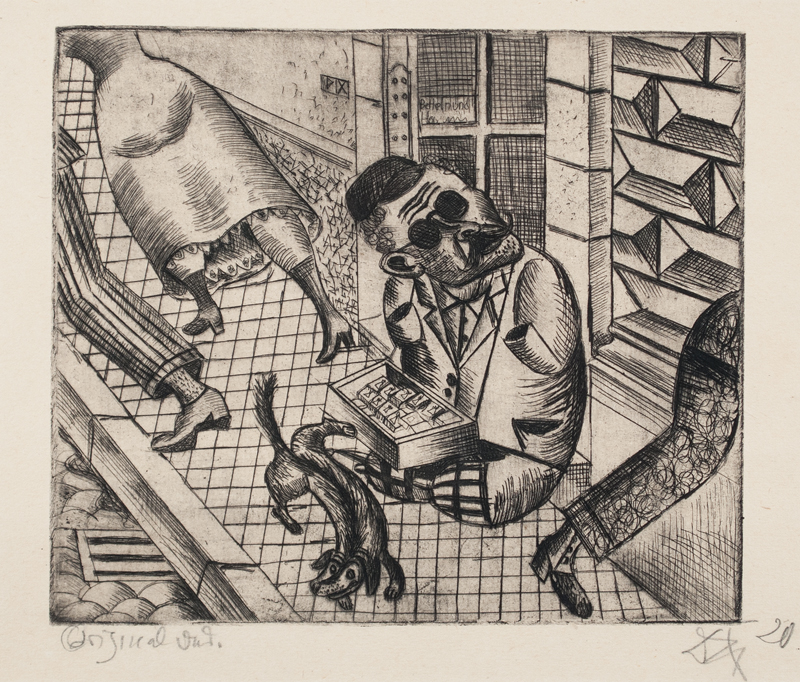 Art work details
Year of production :

1920

Artist:

Medium :

Etching, Artist proof

Materials:

Credit Line :

Purchased with assistance from the City of Leicester Museums Trust, ACE/V&A Purchase Grant Fund and The Art Fund

Copyright :

© DACS 2014.

Associated Groups :

Novembergruppe, Dresdner Sezession

Tags:
Artist proof.
Before he printed the main edition of a print, Dix would usually create 2 or 3 'proofs', to check the detail and appearance of the print was to his liking.
Dix had returned from the war for less than 2 years when he made this etching, one of a series called 5 Radierungen (5 Etchings), which show groups of disabled ex-soldiers, often with devastating injuries or psychological damage.
Dix forces us to confront the blind match-seller's bleak existence on the streets; his arms and legs lost in the war and his presence ignored by passers-by. A dachshund urinates gleefully on the stumps of the unfortunate man's legs, underlining his woeful state.