The Story of the Hess Family
One of the most important stories behind Leicester's collection of German Expressionist art is that of the Hess family of Erfurt, central Germany.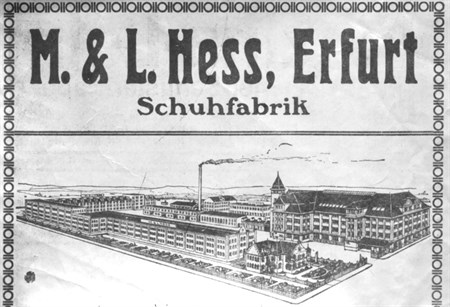 Alfred Hess (1879-1931) was a wealthy Jewish shoe manufacturer. In the 1920s Hess shoes were a byword for quality, exported all over Europe and abroad from the four large 'M & L Hess Schuhfabrik' factories in the town. Alfred Hess also collected art. His collection of over 4,000 contemporary artworks, many bought directly from the artists themselves, was considered one of the finest in private hands in Germany.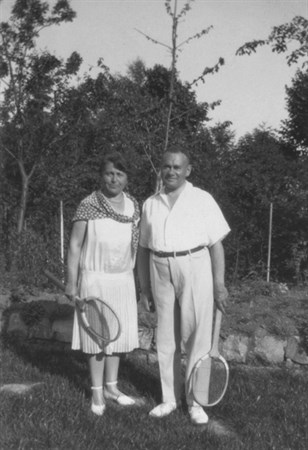 He made many generous donations of Expressionist paintings to Angermuseum, Erfurt and successive museum directors enjoyed the warm hospitality of Alfred, his wife Tekla and son Hans during visits to the Hess house, as did their many artist friends. The visitors' books that were put out by the Hesses were soon filled with sketches, poems and inscriptions, from famous artists, poets and writers, including Klee, Feininger and Kandinsky.
[Hans would later publish a selection of sketches and illustrations from the visitors' books in his book "Dank in Farben" (Thank You in Colours), published in 1957 by R Piper].
Alfred's sudden and unexpected death after hospital surgery in 1931 was a terrible shock. The renowned businessman, art collector and head of a lively, cosmopolitan household was suddenly gone at the age of 52. His death coincided with the impact of the Great Depression which brought the firm to near-collapse and growing Nazi persecution. By 1933 Hans had fled to France after his apartment in Berlin was ransacked by a Nazi gang and he was sacked from his newspaper job for being Jewish.
Tekla chose to remain behind to be with her mother. Although some works were sold in order to raise funds, Tekla attempted to protect the majority of the collection by sending some abroad as loans to Swiss galleries while searching for a longer term solution closer to home. In 1937 almost the entire contemporary art collection in Erfurt Museum was seized by the Nazi government as 'degenerate art'. Soon after, the German authorities ordered that the Hess collection be returned to Germany, where much of it was subsequently illegally sold or subsequently disappeared; the same fate met some works left in Switzerland.
With no income after the Hess business had been forcibly 'Aryanised' in 1937 and facing increasing threats, in 1939 Tekla eventually took the difficult decision to also leave Germany to join her son, mother and brother who were by now all in Britain. Of the thousands of works that had formed the Hess collection, Tekla was left with just a handful; the last items being smuggled out of Germany in family furniture sent to her shortly before the outbreak of war.
Hans had worked in marketing and in London became heavily involved in producing publications that aimed to expose the true nature of life in Nazi Germany.  Nevertheless, soon after war broke out, Hans Hess was one of thousands of non-British citizens suddenly designated 'enemy aliens', arrested and placed in hastily built internment camps, most on the Isle of Man. Many internees were sent even further away, to Australia and in Hans' case, Canada. In 1941, the British Parliament allowed the return of internees, on the condition they assisted the British war effort. Hans Hess finally returned to the UK sometime in early 1942, where he was put to work as a farm labourer near Loughborough in Leicestershire. Tekla Hess arranged to move from London to Leicester to be near her son. 
Leicester Connection
Trevor Thomas, the Curator of the Leicester Museum and Art Gallery between 1940-46, met Tekla for the first time around 1941. He recognised the significance of the Hess name, and resolved to find out more about her collection and what she had managed to save.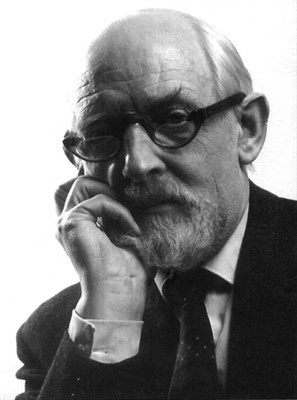 Further meetings were arranged, and Thomas, Tekla and Hans established a friendship, which in turn led to a groundbreaking plan for an exhibition. This was to be called 'Mid-European Art' and would be sponsored by the Free German League of Culture (Frei Deutscher Kulturbund). The League, of which Hans had been a founder member in 1939, brought together anti-Nazi Germans in Britain to promote political and cultural activities that could show an alternative to the Germany of the Third Reich. Over 60 artworks were included in the final exhibition, which took place at the Leicester Museum and Art Gallery on New Walk from February 5-27, 1944.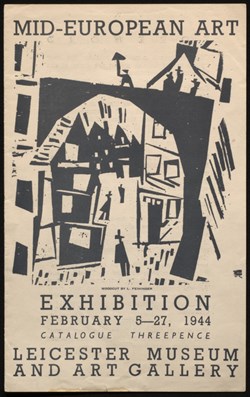 This exhibition was highly unusual and one of the very first in the UK to show the work of German Expressionist artists. British audiences would have encountered oil paintings such as Franz Marc's Red Woman, and Max Pechstein's Beach at Monte Rosso; also etchings, prints and watercolours by Wassily Kandinsky, Karl Schmidt-Rottluff and Lyonel Feininger.
Four works were acquired from the exhibition, for the Leicester collection. These were:
Red Woman, or Rote Frau, oil, 1912, by Franz Marc. (Purchased from Stefan Pauson, brother of Tekla Hess)
Behind the Church, or  The Square, oil, 1916 by Lyonel Feininger. (Purchased from Tekla Hess).
The Mask, or Head with Red-Black Hair, watercolour, c.1910, by Emil Nolde. (Purchased from Tekla Hess).
View from My Window, or The Bridge at Erfurt, watercolour, 1919, by Max Pechstein. This was a gift from Tekla Hess, both marking the occasion of the exhibition; also in recognition of the friendship shown to her and Hans by Trevor Thomas.
Not only did the sales provide much-needed immediate income for the Hess family, but for Hans, newly married and with a child on the way, the exhibition proved to change the whole course of his life. Working with skeleton staff in wartime, Trevor Thomas saw the opportunity to have Hans released from his war work and appointed as an Art Assistant at Leicester Museum shortly before the exhibition opened. Hans continued to work for the service until 1947, before becoming Keeper of Art at York City Art Gallery and later an academic.
Through a unique set of circumstances and friendship founded in wartime, the 1944 Exhibition had been the foundation of Leicester's German Expressionist art collection, which would grow and expand in the subsequent decades.
The latest chapter in this story came in 2014 with the gift to Leicester of a collection of artworks that had belonged to Stefan Pauson. Like his brother-in-law Alfred Hess, he was a German Jewish businessman and art collector who was friends with many of the leading Expressionist artists of the period. Sent to Dachau concentration camp in the late 1930s, he escaped to join his family for a new life in Britain; including time in Leicester.
This most generous bequest was made by Peter and Lai-ngau Pauson through the Art Fund in recognition of the connections between Leicester and the Pauson and Hess families.